This shop has been compensated by Collective Bias, Inc. and its advertiser.
All opinions are mine
alone.
#Homemade4TheHolidays #CollectiveBias
*Complete recipe at the end.
December is one of my favorite months. We get to celebrate the Holidays, decorate the Christmas tree, put colorful lights outside our home, visit the family and of course, cook delicious food.
And tamales are a must! A short visit to your local Sam's Club is what you need to find the ingredients and make these delicious tamales with spinach filling that your family will love.
I have to be honest with you, I love tamales. So much that I learned how to make them a few years ago. In part because I wanted to be able to make my own tamales, but also because tamales always remind me of my mom. She loves to eat them, but she never learned how to make them. So every time I make tamales I think of her, and how I want to make them for her next time I'm at her house. Lucky for us, we'll be visiting her for the Holidays on winter break.
And while my mom loves pork and chicken tamales (just like my family), I try to make some tamales with no meat. Tamales with Poblano peppers and cheese are one of my favorite, but I also like the ones with Spinach and cheese filling. Usually when I make tamales with chicken, I use the same stock from the cooked meat, but for the times I make veggie tamales, it is great to have on my pantry some Swanson® Chicken Broth. I love it because it has great flavor, and a convenient resealable package.
This time, for my spinach tamales, I added Campbell's® Condensed Cream of Mushroom Soup to half of my spinach filling, to give it some extra flavor and the result was just delicious. I bet your family would be so happy to have some homemade tamales as part of dinner.
A Tip before you start making your tamales:
Corn husk are dry and a little hard, so you can't use them like that. While you do your filling and dough for the tamales,
place your corn husk in a deep bowl and add enough hot water to cover them. Use a lid or something heavy to keep the corn husk submerged. Let them sit for about 45 minutes to 1 hour. This step will make the corn husk soft and pliable ready to fold.
Now, the recipe:
Easy tamales
with spinach and cheese filling
Ingredients:
For the dough:
3 cups of instant corn masa mix

2 cups of Swanson® Chicken Broth

1 cup of vegetable shortening

2 tbs of baking powder

Optional: 1 tsp of chicken bouillon granulates or salt
For the filling:
4 cups of spinach leaves, washed and cut in smaller pieces

½ onion, thinly sliced

1 tbs of vegetable oil

1 can of Campbell's® Condensed Cream of Mushroom Soup

Garlic powder, onion salt and black pepper to taste

2½ cups of shredded melting cheese -oaxaca is my first option but mozzarella works too
Instructions:
Make the filling:
Heat the oil in a large skillet. Add the onions and cook until soft and a little brown. About 1 minute. Add the spinach, cook the spinach stirring until wilted, about 2 minutes. S
eason with garlic powder, onion salt and black pepper.
Remove half the spinach from skillet and place on a plate. Reserve.
Make the dough:
Beat the shortening at high speed with a mixer, until fluffy. About 10 minutes.
Measure 2 cups of Swanson® Chicken Broth. Mix the corn masa mix with the baking powder. If using chicken bouillon granulates or salt, mix with the corn masa too.
When the shortening is ready, start adding your corn masa mix and chicken broth, alternating. Continue to beat until your dough is soft and light. If the dough looks a little dry, add more chicken stock, a little at a time until right consistency. *If you want to see if your dough is ready, take some of your dough and make a little ball, drop it in a glass of water, if the dough floats, the dough is ready.
Assembly the tamales:
Take your corn husk from the water, dry with a cloth or paper towel.
Place one husk in your working area, add 2 tablespoon of the dough, from the half part of the husk to the widest area. Distribute well in the center of your husk. Use a spatula to spread the dough easily.
Add 1-2 tablespoon of your spinach filling, then 1-2 tablespoon of cheese.
Fold 1 side of your tamal, then the other so it covers the filling. Finally fold the bottom part. Set aside.
Do the same until you finish your spinach filling and then the spinach and cream of mushroom soup.
To cook the tamales you can use a steamer pot, or use the steamer on your instant pot. Add water to your steamer, then place your tamales in the pot standing up. Use a few of the corn husk to cover the tamales before you put the lid.
Cook for 1 hour. (20-30 minutes in your instant pot). Let rest at least 15 minutes before you serve.
Check out the video so it is easy for you to follow the instructions:
As you can see, making tamales is not that hard. With these ingredients, you will get about 24 regular size tamales. Not too big, not to small. I always use this recipe for the dough because it is safe, and while you can freeze your tamales for several weeks, I always prefer to eat them as soon as they are done.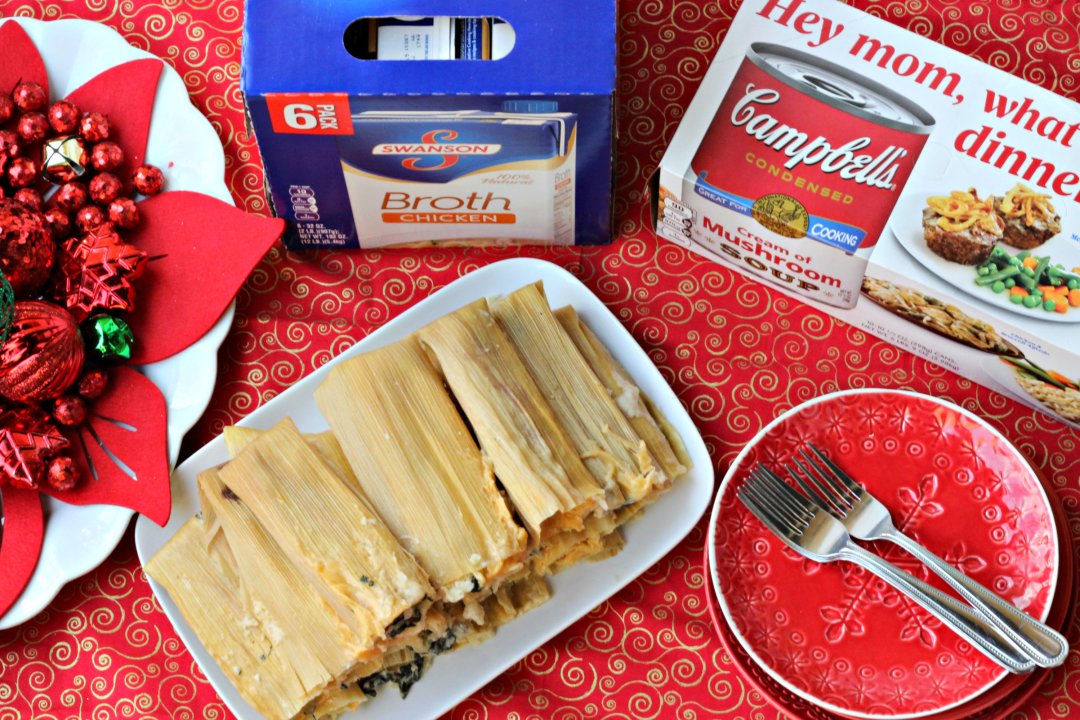 Please hover over the image above to shop directly from Sam's Club.
I bet your family will be very happy. The best part is that you can use any other filling you can think of. You can add more veggies, more cheese, or even meat if you like.
And while you are shopping for your ingredients at Sam's Club, check out the 6 pack Swanson® Chicken Broth (32oz) and 10 can pantry pack Campbell's

®

Condensed Cream of Mushroom Soup (10.5 oz). I know it seems like a lot, but the good thing about buying in bulk is that you will have extra in your pantry. That extra you can use in future recipes, from soups to rice, to whatever you can think of adding extra flavor, but also to give and share a little with your neighbors in need. In our case, the Henrico County Schools organized a can food drive to help our Henrico Christmas Mother. The other canned food drive was organized by our apartment complex where we live. So as you can see, you can shop, eat and share! isn't that awesome about the Holiday season?
Make sure you don't miss the Annual Holiday Taste of Sam's event that Sam's Club is hosting on Dec 21 & 22. You can sample Swanson® Chicken Broth with Idahoan Mashed Potatoes and be able to save because of a temporary price reduction of $1.50 off Campbell's® Condensed Cream of Chicken Soup, and Campbell's® Condensed Cream of Mushroom Soup.
Happy Holidays! I hope you have a great time with your family eating these delicious tamales.
And if you are still looking for other yummy options to cook at home, check out more Campbell's® Cream Soups and Swanson® Broth holiday recipes and inspiration HERE.
What are you cooking this season?